Shearers
Janine Midgley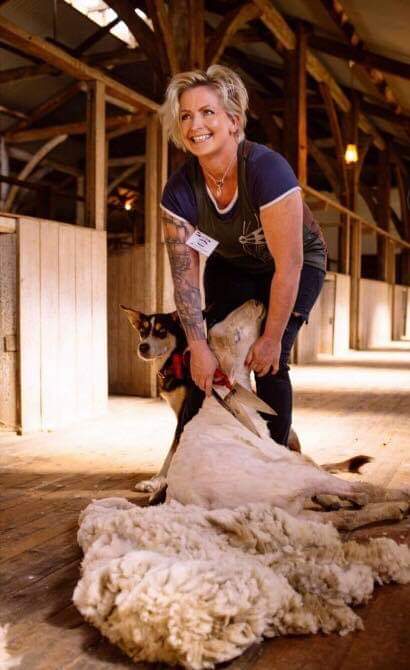 Janine has worked professionally in the shearing industry for 30 years, 7 years as a wool handler and 23 years as a shearer. She has shorn all over Australia, though it was a hard game to break into in a formally man's world. She says, "As a woman shearer a lot of men did not think I belonged there and did everything in their power to scare me off or make it so hard I would quit". But she didn't and that made her more determined to continue on.
It can be very isolating and lonely on the road, shearing and driving thousands of miles from one side of the country to the other. In the vast outback desserts, sometimes caught up in massive floods or terrible droughts.
Janine got to work alongside famous shearers (guns) and earned their love and respect, "They were my mentors and two of them committed suicide" she adds. A few of them have passed on now, but they helped make her journey worth it.
"Their eyes would twinkle with pride and mischief when they would sit there at the end of a long hard day, pass me a home-brew and tell me their amazing stories (yarns)". Hence, this is where the 'Ducks on The Pond' name came from. "As I made it a metaphor in my journey, it helped me and help change things around in the industry for other women".  
Janine explains, "I see her as a cartoon character, an Aussie duck called Matilda and she always has her best mate, a work dog beside her. His name is Diesel Dog. He keeps her company, makes her smile and laugh no matter how lonely and scary it gets. I've seen a lot of things that make me wonder how the hell I'm still alive".
Janine has shorn 300 merino lambs in a day and has won in shearing competitions against men around Australia. Come and meet Janine and her fellow shearers at the Blades of Glencoe Shearathon 2019.
Richie
Richie has been a shearer for 53 years, shorn for 8 months of every year and shorn close to 900,000 sheep. He has been in a back aid for 36 years. When he wasn't shearing, he broke in racehorses and also trained 30 winners in his past time.
Richie bought his great grandfather's farm at the age of 35. Since that time he has also been very sick and went through a suicidal period. Through Richie's experience, his advice is to "eat very well, keep fit and stay positive". Richie loves shearing and is very passionate about blade shearing.
---
Visiting Shearers
We also have the following visitors who will be taking part at the 2019 Shearathon.
Charlotte Silvester
In her own words, this is Charlotte's story.
"I got into blade shearing as my husband did it.
He was out one day and I had a sheep with a maggoty eye. I took the only pair of shears I could find that were no good really. I trimmed away the maggots then decided I would have a go at shearing the whole sheep. I surprised myself and did it. I caught the shearing bug!
I have made some great friends through blade shearing and even competed a bit last year.
Now I get to go to the other side of the world and have a go. x
See you in Glencoe."
Angela Pearson
Angela Pearson's Story – aka "Mutley"
Angela says, "My interest in blade shearing originally rose from researching the wool industry in medieval times, because I demonstrate textile crafts as my Living History at Battle Re-enactments, and knew that the knowledge of shearing would help me bring the history to life".  Little did she know then where that interest would lead her.
Angela was over 50 years of age when she had her first blade shearing lesson from Michael Churchouse in 2017. She learnt to shear while having a trapped nerve and two bulging discs in her neck from a work injury.  It was very hard work to begin with, especially as she was struggling to even put her socks and shoes on.  However, her stubbornness helped her persevere. 
She says, "I used shearing as a form of physio as the reverse stress positions helped to heal.  (Equally, I was encouraged to keep learning and to overcome my difficulties after reading about Josh Talbot and Nikki Towell and their achievements)".
She competed at the Southern Shears in the summer and came last, but says, she learned a lot. 
In October 2017, Angela was invited over to Australia by Richie Foster, along with some shearing mates who were coming over to work and compete.  She learned a bit about rousie-ing, wool handling she more shearing.
She competed at Geelong and came last but gained more tips from the wonderful people she met there.  I was even fortunate enough to shear sheep at Glencoe Woolshed.
During 2018, she worked hard to learn as much as she could and her shearing improved, both in quality and speed, and was no longer guaranteed last place. 
"I have found so many friends since I began shearing, and they have helped me to grow.  I have enjoyed the camaraderie and banter that goes with working in a shearing shed, listening to stories from days gone by. 
I am really honoured to have been asked to shear again at this amazing historical Woolshed at Glencoe in aid of a very worthwhile cause, because we all know someone who has suffered or has fought with mental illness, even sometimes if it's only the person who looks back at you in the mirror. So, I am really looking forward to shearing and spinning at the Blades of Glencoe Shearathon", she says.
Also Attending